Documents & Services Navigation
This is the part of our site where all the products, resources, videos, forms, manuals, handbooks, customized management agreements and leases, money-making ideas, CYA protections, checklists, service animal/comfort pet training and all you'll ever need to run a safe and profitable management business. This is the "Mother Load".
It will take us six to twelve months to get it all posted, and we'll keep posting more as time goes on, but there will be more than you can digest before the end of the year. I've been digging through our 35 years of document archives and there's more than I thought.
If you register we'll send you notices as we post things so you'll know what's there and where to look for it.
Our Documents are presented in TWO formats:
By Topic identified with a product image.
By Process with the Property Management Life Cycle (scroll down)
As you scroll down the page, you'll see graphics identifying big topics like Cashing In On Property Management; Scope of Service; Customized PMA and CYA Documents so there's a lot to look over and we're loading up more every week. Many documents are listed in both formats so don't be surprised if you see duplicates. It's our way of helping viewers find what they need quickly and easily.
If you have trouble finding what you need just let us know and we'll either direct you to it or create it. We have lots in the pipeline and probably will have what you need soon.
Find Documents by PROCESS using the PMLC
The boxes on this wheel will be linked to our products soon. Clicking on a section will take you to the products for that part of the property management process.
The Property Management Life Cycle on the right is a document storage system that lays out the 10 processes of managing rentals in the natural sequence they take place. After you've been in the business a while you begin to see that Everyone Does The Same Process, in the Same Sequence, although we do them very differently.
For 10 years our staff used the PMLC as a guide for locating the document we needed for every event we faced managing rental properties. We are posting all our documents, forms, letters, checklists, manuals, handbooks on this lifecycle and organizing it in the order each process occurs in the management cycle. So, if you're looking for 'a Customized Lease,' you'd open the Resident Sign Ups folder, but you'd open the folder titled Manage Move Outs to find 'how to manage move-out damage disputes from tenants.' Remember, we're on the front end of this process so we only have 30% to 40% of our documents loaded thus far. If you're Registered on our site we'll send you notifications as we add more material.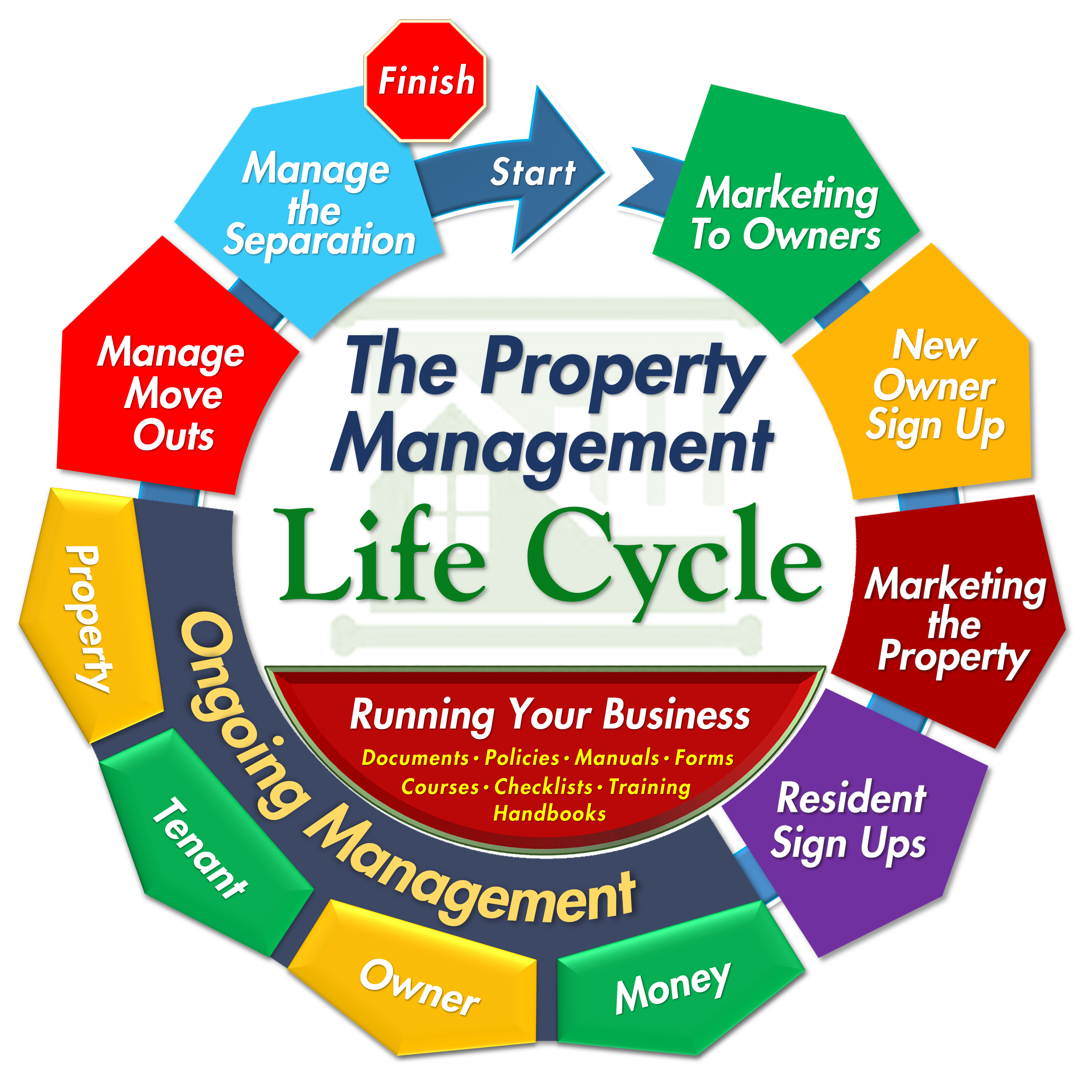 PMLC - New Owners Sign Up
PMLC - Marketing the Property
PMLC - Marketing to Owners
PMLC - Managing the Money
The Wheel above is becoming more and more activated every week
Content Below Is In Progress and Will Be Posted Soon

Lead Paint

Federal Law

Georgia Landlord Tenant Act

Foreclosure

Eviction Protection

Mold