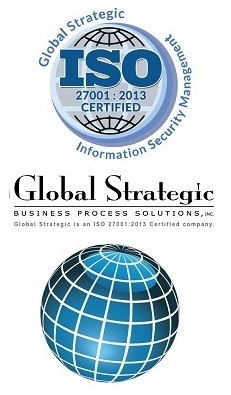 Global Strategic is an international provider of custom business process solutions that deliver enhanced efficiency and improved productivity across a variety of industries.
We presently partner with Property Management Organizations, Accounting Firms, Insurance Providers, Real Estate Brokerages, Staffing Firms and Legal Professionals.  Our global workforce is comprised of individuals in the U.S., and the Philippines, who design, implement and provide solutions that dramatically increase clients' production levels and profit margins.
Our commitment to quality personnel, investment in the latest technology and continued training and education of our staff, enhance our ability to maintain a high level of employee retention.  This model affords our clients a consistently high level of service, and with our ISO 27001 Data Security & Integrity Certification we also provide peace of mind.
With 3 operational locations nearshore and offshore, an eye on security and integrity, and tried and tested Disaster Recovery models, Global provides great flexibility and stability for our partners.
Brian A. Flaherty  COO
brian.flaherty@globalstrategic.com
Office: 336-283-8668 x1001
Mobile: 732-232-4341
Global Strategic
Contact Our Recommended Vendors
Read More