SuperTenders, formerly NightTenders, was the first to create a maintenance coordination solution to provide relief for property managers of long-term and short-term rentals, investors, and community associations who are on call 24/7. We recognized the need for a professional, trustworthy solution to address tenant maintenance calls quickly and efficiently, and make our clients' lives less stressful. Our services allow clients to not miss out on events and people important to them like family events, holiday celebrations, a kid's baseball game or recital, or even time to focus on their business.
Our company founders are current and former property managers, current investors in rental properties, and managers of community associations. Collectively, the SuperTenders team has over 300 years of experience in being on call every day. We know what it's like to tend to a sewer backup on Christmas Day, toilets clogged by kids' toys, and a furnace that goes out on the coldest day of the year.
Our professional staff is highly-trained in not only customer service, but also in troubleshooting common non-emergency maintenance calls to prevent costly service calls.
Our goal is to make your life easier and less stressful, by giving you relief, freedom and peace of mind, and more time for the truly important things in life… all at an affordable price!
Call us today and sleep better tonight!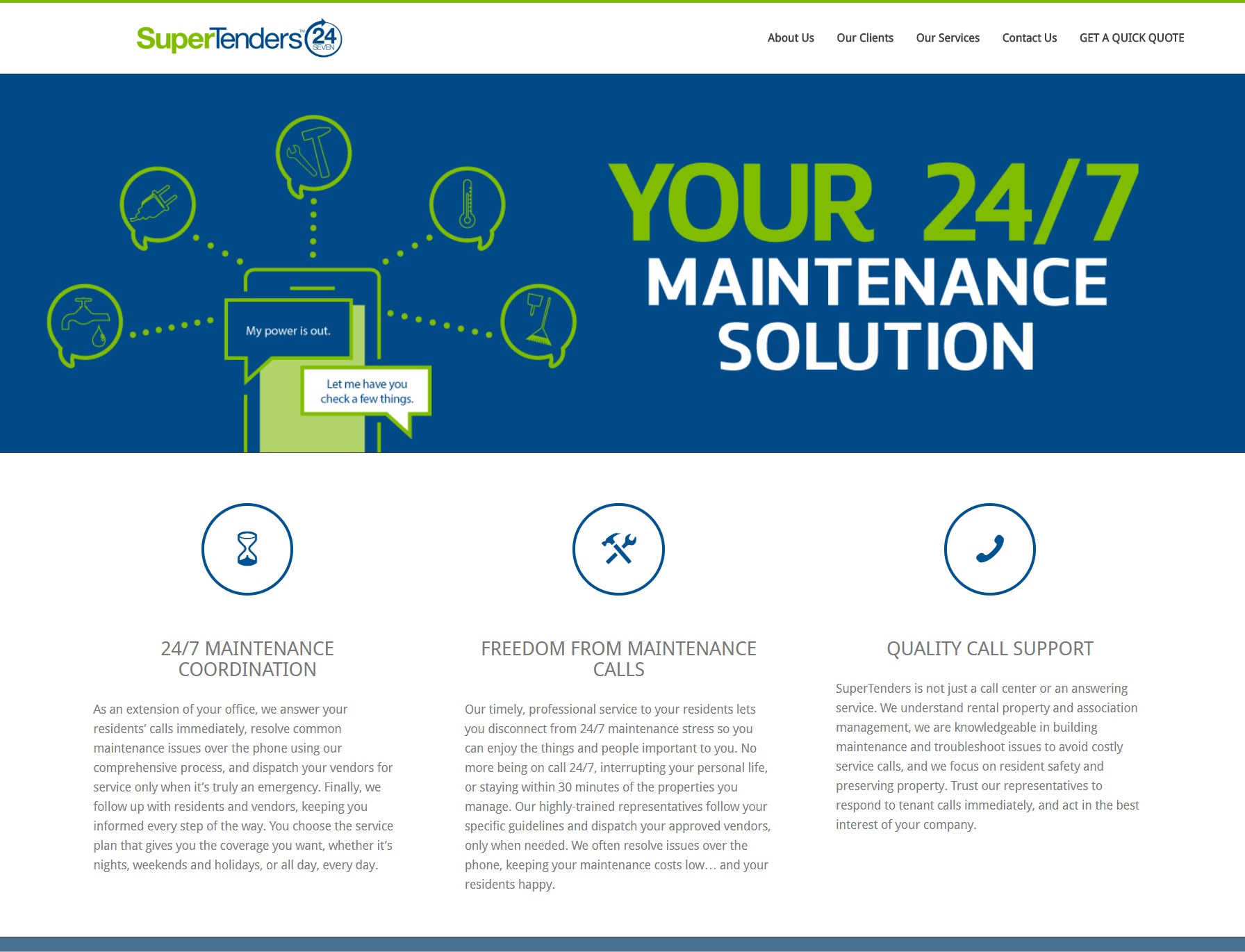 View Our Expanding Line of Products
This is the part of our site where all the products, resources, videos, forms, manuals, handbooks, customized management agreements and leases, money-making ideas, CYA protections, checklists, service animal/comfort pet training and all you'll ever need to run a safe and profitable management business. This is the "Mother Load".
It will take us six to twelve months to get it all posted, and we'll keep posting more as time goes on, but there will be more than you can digest before the end of the year. I've been digging through our 35 years of document archives and there's more than I thought.
If you register we'll send you notices as we post things so you'll know what's there and where to look for it.